Roger Smith Hotel - New York
40.75476

,

-73.97348
New York

,

United States

|
287US$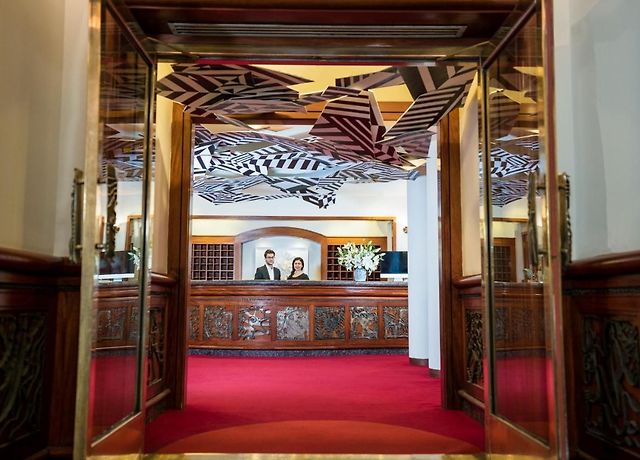 Address
501 Lexington Avenue
,
New York
,
New York
,
United States
,
10017
, New York State
Overview
Featuring live performances, a fitness studio and a conference room onsite, 3-star Roger Smith Hotel New York City is situated in Manhattan district, 10 minutes' stroll of Rockefeller Center. Staying at this elegant hotel, guests discover the touristic area in vicinity of Midtown East.
Location
Located in the business part of New York City, the hotel offers its visitors location near Cornell University. The Art Deco – style skyscraper "Chrysler Building" is settled only a 6-minute walk from the property. 0.7 miles away from also takes you to Times Square.
M101 bus station can be found 5 minutes by foot from Roger Smith Hotel.
Rooms
The boutique accommodation features 132 rooms equipped with a flat-screen TV with satellite channels as well as an iron with ironing board. For your safety, these cozy rooms are appointed with smoke detectors. Offering amenities like shower caps and bath sheets, the bathrooms also include a roll in shower, a separate toilet and a bath. Some of the units look out over the street.
Eat & Drink
You can have a continental breakfast before going out to explore the area. Gastronomic options include a lounge bar. This hotel is perfectly located near Diso's Italian Sandwich Society and Spice Symphony.
Leisure & Business
Business travelers are welcome to use a business center offered on site.
Internet
Wireless internet is available in the entire hotel for free.
Guest Parking
Private parking is possible on site at USD 52 per day.
The personnel at the hotel speaks English, Spanish, Italian, Tagalog / Filipino.
Year renovated:   2010.  Number of floors:   13.  Number of rooms:   132.
Facilities
Most popular facilities
24-hour services
24-hour reception
24-hour security
General
Wi-Fi
Parking
24-hour services
Food/ Drinks
Fitness/ Gym
Laundry
TV
Services
Valet parking
Laundry
Dry cleaning
Stores/Commercial services
Business
Business center
Meeting/ Banquet facilities
Room features
Wi-Fi in rooms
In-room air conditioning
Heating
Sitting area
Tea and coffee facilities
Dining table
Ironing facilities
Bathroom
Shower
Hair dryer
Free toiletries
Self-catering
Refrigerator
Cookware/ Kitchen utensils
Media
Flat-screen TV
Cable/ Satellite television
Free local telephone calls
AM/FM alarm clock
Good to know
Check-in
from 15:00-23:59
FREE
Check-out
until 12 pm
FREE
Pets
Pets are not allowed.
Rooms and availability
Junior Suite Two Double Beds

Bed options:

Room size:

295 sq. feet

Max:

4 persons
City view

Shower

Coffee machine

Heating

Bathtub

Bed options:

Room size:

205 sq. feet
City view

Shower

Coffee machine

Heating

Bathtub
Double Room Two Double Beds

Bed options:

Room size:

220 sq. feet

Max:

4 persons
City view

Shower

Coffee machine

Heating

Bathtub
Location
501 Lexington Avenue
,
New York
,
New York
,
United States
,
10017
, New York State
City landmarks
Nearby
Restaurants
20 West 34th Street
Empire State Building
3000 ft
Landmark
Rockefeller Center
2500 ft
30 Rockfeller Plaza Enter on West 50th Street
Library
New York Public Library
3300 ft
Museum
The Metropolitan Museum of Art
1.9 mi
Museum
The Museum of Modern Art
3200 ft
Stadium
Madison Square Garden
1.6 mi
Museum
American Museum of Natural History
1.8 mi
Public Building
United Nations Headquarters
3400 ft
Library
The Morgan Library & Museum
3600 ft
Museum
Madame Tussauds New York
1.0 mi
150 E 36th St # 158
Sniffen Court Historic District
3200 ft
Square
Pulitzer Fountain
5100 ft
Park
Gantry Plaza State Park
2.2 mi
Church
St. Patrick's Cathedral
1900 ft
405 Lexington and 42nd St.
Chrysler Building
1400 ft
Restaurant
Ashley's Fine Foods
200 ft
Restaurant
Diso's Italian Sandwich Society
100 ft
Restaurant
New York Luncheonette
900 ft
Restaurant
99 Cent Fresh Pizza
500 ft
Getting around
Train
Grand Central Terminal
1400 ft
You can book a shuttle, once your reservation is complete.
Reviews
William

Planned to see New York major attractions and it was reasonable base for visiting all of them. Microwave, coffeemaker and fridges worked well. What's more, free Wi Fi was good.

Joseph

The room faced city.

The hotel needed updating.

missing

If you don't set your expectations too high, this hotel will deliver. I don't mean this in a negative way ... it actually has a correct price/quality label. Location is good, easy metro access couple of blocks away (Grand Central station will get you anywhere quickly). Although the hotel rooms are a bit dated they were cleaned propely every day.

I requested and got confirmation before I arrived at hotel that my room would have 2 beds. Upon arrival these rooms were already given away. As the hotel was fuly booked during the 4 nights we stayed there, it was not possible to change rooms later on. The sales manager appologised for the discomfort and apart from giving us an extra roll-on bed .. he also compensated by giving us breakfast vouchers which was a very nice gesture... so a negative experience handled correctly. Thumbs up!

missing

Good location. Hotel was relatively clean with comfortable beds. Valet parking was reasonably priced for nyc

Dated decor. Lots of street noise. Lobby looks run down. Bathroom was tiny and dated. Staff was indifferent

missing

Nicely appointed room, helpful staff, unlimited free local calls, in general, a surprisingly positive experience, especially given the relatively low price.

missing

Staff are very pleasant. Hotel is in a good location for what we wanted to do in New York City. This was second time we stayed with them.

You have to watch your bill. We were double charged for room. Also Housekeeping seems to have a problem supplying fresh wash clothes. We had to ask for new ones when we wanted them.

missing

The room was extremely big, specially for NY. The decoration was antique but very nice.

In the past it must have been a very luxurious hotel. Although very nice and antique, qou could tell that some things were old. But I enjoyed and recomend my stay.

missing

Convenient to businesses in midtown.

missing

The location is excellent, hotel is decent and straightforward, with all facilities necessary, although not exceptional

missing

Free Wifi service and newspaper available... Hotel was clean and basic - really liked the firm bed and plush pillows...

Updating the carpets and room fixtures will an additional touch

missing

The room is very nice and contain large space. The furniture is comfortable.

Tv channel options are poor. The tv is old stile. Wireless service is very very slow and surfing the web is almost impossible. Bathroom has't been updated for a very long time. Elevators are slow and old.

missing

very poor beds, hotel decor tired,small elevator, no bell boys,pathetic a/c

missing

Location was excellent, close to subways and popular tourist attractions.

I understand we are talking about New York but this hotel was not worth the money spent. Rooms were small and cramped for my family of five. Internet service was little more than impressive and the outdated decor was very poor. The convenient location is the trade off.

missing

Location was perfect for me and the room was quite big, especially for a nyc hotel. Staff were friendly and attentive.

Hmm, where to begin? Room was loud even though on the 13th floor, could hear the trains from Grand Central Station and the heating system woke me every time it ran (it was a hot water heating system that made a loud clicking noise). The bed was very poor, whoever designed the "pillow top" mattress obviously never talked with anyone with a bad back and literally I sank into the bed and knew things would be bad the next day - and they were. The room smelled slightly of urine (room 1310) and there was not a single free plug for plugging in my computer or other devices, which necessitated me unplugging either the tv or other devices in order to use the power to recharge my computer. The entire hotel is in desperate need of an update, it is really stuck in 1960! There are much better hotels in the immediate vicinity for the price. Oh, almost forget, the two old elevators are appallingly slow, especially around 8 am when cleaning staff and departing customer traffic is high.

missing

We found the staff and location of the hotel fantastic. Loved the "art " feel to the hotel. The rooms were very clean and we thoroughly enjoyed our stay

No real complaints the hotel proably needs some refurbishment as a number of floors and rooms are in different state of finish and our room had a few cracks and scratches in doors etc As state above the hotel was very clean and enjoyed thoroughly
FAQ
What is the closest airport to Roger Smith Hotel New York City?
Roger Smith Hotel New York City is located 0.5 miles away from LaGuardia airport.
Should we expect an airport shuttle to bring us to Roger Smith Hotel New York City?
Yes, Roger Smith Hotel New York City can arrange shuttle.
Can I eat breakfast at Roger Smith Hotel New York City?
Yes, you can have an continental breakfast in Roger Smith Hotel New York City.
Are there any business facilities featured at Roger Smith Hotel New York City?
Yes, Roger Smith Hotel New York City offers computers and a xerox.
How far is Roger Smith Hotel located from the city center?
The city center is 3.4 miles away from Roger Smith Hotel.
Does Roger Smith Hotel feature any cleaning services?
Yes, Roger Smith Hotel offers dry cleaning service, room service and laundry.
What points of interest are close to Roger Smith Hotel New York City?
Guests of Roger Smith Hotel New York Citycan visit a nearby landmark, Midtown East.
What leisure facilities can I make use of at Roger Smith Hotel?
You can benefit from a library and a bar provided at Roger Smith Hotel.
Where can Roger Smith Hotel be found?
Roger Smith Hotel is situated in Manhattan district a 11-minute stroll from Empire State Building.
Are there any dining facilities close to Roger Smith?
You can always visit Diso's Italian Sandwich Society restaurant, set near Roger Smith.
What are the booking prices at Roger Smith?
The prices at Roger Smith start from $247.
Can I find any public transport next to Roger Smith Hotel?
Within 950 feet of Roger Smith Hotel guests will find 51st Street Lexington Avenue Line metro station.